SIX PINES RANCH/ SIX PINES PETS ON WHEELS
Situated just north of Winnipeg, Canada resides the home of James and Judy Thevenot, proud owners of Six Pines.
Six Pines is a family operated facility that has been an agri-tourism farm for
over 2 decades.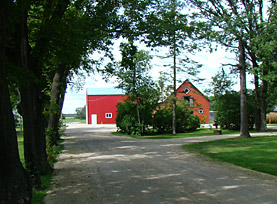 From hands on educational farm tours, field trips, and weddings/special events to their infamous haunted attractions along with Pets on Wheels, and Bed & Breakfast ~ Six Pines has taken pride in providing its guests with an experience they will never forget.
Six Pines has been called a Manitoba school on the prairies and rated a "Number 1 Field Trip" by many schools/teachers.
Six Pines Mission Statement:
"To create lots of happy memories for families young and old"
True Country Hospitality at its finest!
Visit www.sixpines.mb.ca for more information.