THE HITCHIN' POST RANCH
The Hitch 'n Post was started on our family farm. Eddie 'T-Bone' Anderson and Arlene Kaiser came up with the concept thinking that there was a niche for a country style banquet facility for the city of Winnipeg and surrounding areas.
What started out as a dream became reality in 1984, our first year in
business. That first year saw the Ranch cater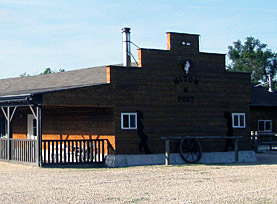 to a few hundred people, now it caters close to ten thousand people a year.
Wanting to keep the Hitch 'n Post family run, Kyle, T-Bone's son took over as head cowboy at the Ranch when Ed retired in 2002.
For more information or to plan your next event
Please contact Kyle at:
Ranch Office: (204) 467-2544
Cell: (204) 797-7575
Email: kanders@mts.net