PRAIRIE DOG CENTRAL
The Prairie Dog Central travels through the RM of Rosser and departs from
Inkster Junction which is about 3 km west of the junction of Route 90 and
Inkster Boulevard.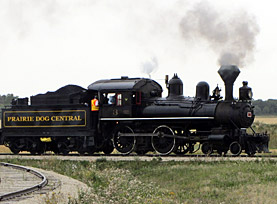 Take a ride in our time machine, as we clickety-clack down the tracks into yesteryear. You'll enjoy a trip aboard our vintage train, just as early settlers once did. Travel in the comfort of one of our fully restored, historic wooden coaches, built between 1901 and 1913.
History surrounds you, as you imagine former dignitaries, farmers and prime ministers, who once traveled this great land of ours by rail - just like aboard The Prairie Dog Central. You may even be sitting in the same seat as one of these great Canadian pioneers once did.
The Prairie Dog Central is pulled by either of our two vintage locomotives - an 1882 steam engine, or a 1958 vintage diesel, depending upon availability. Both locomotives played an important role in shaping our Canadian heritage in the transportation industry. Other than by horse and wagon, the railway was once the only way to cross this great land of ours.
During your 2½ hour journey, you will enjoy the serenity of the prairie landscape, dotted by small communities, farmland, golden fields and vanishing tall prairie grasses. You are surrounded by the peace and tranquility of what prairie rural life has to offer. Take a deep breath and fill your lungs with clean country air.
During your trip, you will enjoy stopover at the Country Market of Grosse Isle, with the country charm and hospitality that our rural neighbours have to offer. Browse through the offerings of handicrafts, souvenir and gift items available to you at this market. Drinks, ice cream, hot dogs and pizza await those of you who are hungry. Local entertainment will get your toes tapping.
As we depart Grosse Isle and head home to Inkster Junction, sit back, relax and reflect on today's rich experience. Be a part of history and take your memories home with you.
Don't forget though while you're visiting us, to tour our 1910 Train Station. Stop in and say "Hi" to our friendly volunteers, in both our Ticket Office and the Souvenir & Gift Shop while you're there.
For more information please visit www.pdcrailway.com